I Got to know Canon McGonagle the day after I arrived at Sacred Heart, Moreton which was my first appointment in the Diocese. It was 1959. He rang me up and said that I should need a friend, and, as I would be coming up to the F.C.J. convent at Upton for Mass, I would be welcome to cross the road to see him. I did so. And he then and there told me how to go about being a priest in the parish, how much support priests needed in their lives - from lay folk, and especially from brother priests. In those days, Collaborative Ministry and the solidarity of the Presbyterate were unknown terms, but the reality of his fatherly friendship and pride in his parish were for me very inspiring. He had a real love for his people.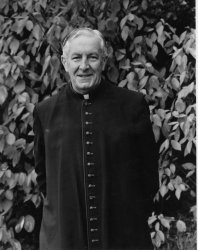 Five years later, they sent me off to Rome, but I tried to see him whenever I came home on leave. And when I became Auxiliary Bishop of the Diocese, he could not have been kinder to me. He sometimes introduced me to people by saying: 'I taught him all he ever knew'. He was not a million miles from the truth. 
He and I both left the Diocese about the same time, but we still kept in touch, at least at Christmas time. His character and his commonsense approach to priesthood were, and are, still very precious to me. 
Cormac McGonagle was born at Bankhead, Carndonagh, in County Donegal on 20th August 1909. He studied in Carndonagh, Derry, Maynooth and, finally, at Oscott College. He was ordained for the Diocese on 7th June 1936 by Bishop WilliamMcNeely in the Cathedral at Letterkenny.
He served as an Assistant Priest in St Werburgh's, Birkenhead, St Hilda's,  Northenden, and St Vincent's, Altrincham. They still remember him there.
From 1950 to 1957, he was parish priest of Ellesmere, before going to St Joseph's, Upton, for 26 years. I was amazed that he only spent seven years in Ellesmere, for he left a great part of his heart in Ellesmere. He would talk about the farmers and how he would go to market with them and vet the cattle before they put their money down for Cormac McGonagle was a man of the land. And the land, his own soil, drew him back to his native Donegal for the last thirteen years of his life. In Culdaff he would 'wander about and enjoy the company of Fr Barney Duffy and the good people of the parish'. These happy days in his beloved Inisshowen were enriched by his nearness to his family and the devoted care of his housekeeper Brighid.
He died peacefully in the parochial house at Culdaff on 2nd September 1996.
The readings chosen for the Memorial Mass are very appropriate. They resonate with me; phrases jump out when I think of Cormac. 'I made him a witness to the peoples'; 'Happy are those who die in the Lord ... since their good deeds go with them'; 'Whoever comes to me, I shall not turn him away'.
I think those words of St John sum up the relationship we priests should all have with our people. To have time for all who cross our path - who can interrupt what we are doing without resentment There is something inherently disorganised about a priest's life - it has to be if we are to be what our people want us to be - simply available. The Lord had no diary of appointments! To be available to all, no matter what the reason (or lack of it) is so Christ-like.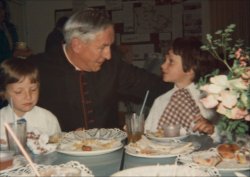 These words of St John are part of his Discourse on the Eucharist It reminds me that I am called to be the Bread of Life to my people. I am called to ensure that no-one goes away hungry. All of us are invited to do, not our own will, but the will of Him who sent us, and to lose no-one God has given to us to shepherd in our parishes. All of us are called to raise people up, not diminish them. 
It is these thoughts which I feel are the best thank you to God I can see in Cormac McGonagle, both here in the diocese and in County Donegal. He took these words to heart and made them his own. It is these things which he bequeaths to me.
I think of his love for young people and his work for the schools. I think of his pounding round the parish in Lent on the mighty onslaught of knocking on doors.
He was determined not to lose a single one that God had given him to lead and to shepherd.
We owe so much to our Irish priests. They have been a wonderful gift to the Church in this country. and he was one of the best. May his great soul rest in peace.