Canon Dallow was born at Cleobury Mortimer On April 15, 1848, and received his education at Ushaw College where he was ordained on August 24, 1873.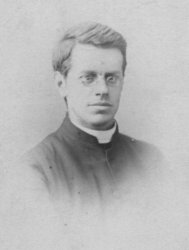 His first appointed to Our Lady's Btrkenhead, he left in 1875 to spend two years at Stalybridge, returning for the next two years to his first mission. After a further two years at Latchford, he served St. Werburgh's, Chester, for a year, Seacombe for three, and then went to Upton Hall in 1885, where he remained for the rest of his life.
Canon Dallow met with a serious accident in returning from a visit to the Boy's Refuge. In the darkness he was knocked down by a motor and so severely injured that he was detained at the Royal Infirmary. A slight improvement permitted his removal eight days later to the residence of Father Walmsley, but despite all care and attention he succumbed to his injuries a few days later and died on Sunday, November 25, at Crosby Rectory, close upon his seventieth year.
His chief interest in life centred about poor and friendless children, more particularly boys in industrial and similar schools, and the list of such institutions with which he was connected in official or friendly capacity forms an instructive commentary upon his ardent love for the poor ones of Christ.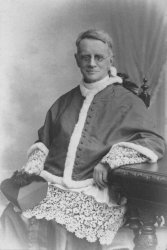 A keen antiquary, well read and travelled, and of literary ability, as evidenced by his frequent contributions to various periodicals, he became Canon of Shrewsbury in 1899.
After his death, his body was brought back to Upton and taken into the chapel which had been suitably draped in black and gold, and was placed in the sanctuary between the convent and mission chapels. The rosary was then sung. After Mass at Upton the coffin was put on a cart and pulled by men all the way to Our Lady's Church where the Requiem took place, on Wednesday, November 28, and was attended by many clergy of the Shrewsbury and Liverpool Dioceses. Bishop Singleton performed the final ceremonies at Flavbrick Hill Cemetery.